Time once again for Kristi's Live and Love…Out Loud ONHD Tuesday's! Be sure to pop over, join in, blog it, post it, link it, & visit around as she gives us free rein to vent & bitch under the guise of tongue-in-cheek fun!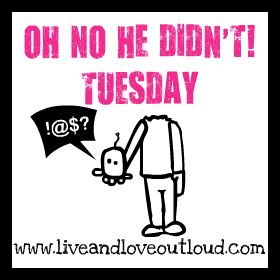 Miley Cyrus hit the stage to open the Much Music Video Awards Sunday night, in Toronto, Canada, with THIS song….Party In The U.S.A.
OH NO, SHE DI'N'T!!! Oh yes she DID girlfriend!!
Apparently Miley didn't get THAT memo either…odd, since she WAS wearing the stilettos…& not much else, the little skank…sorry,
INSIDE voice Trace, inside voice. Besides, doesn't she pay people to tell her what city & country she wakes up in every day??!! 'Cause you be in MY country now missy!
I was watching a new show with The Diva on TLC last night. She likes The Cake Boss, & I'll let her put it on & snuggle in with me while I work on the lap top…"Inedible To Incredible" came on right after, in which a chef confronts, then helps, women who THINK they are good cooks, but their families have complained about their inedible meals. Do I even have to tell you where I'm going with this??
OH NO, SHE DI'N'T!!!! Frikkin' little brat absolutely DID! About a dozen times…YOU should go on that show Mommy!
Now, admittedly, I despise being in the kitchen. If I didn't have 4 kids to feed, I may never step foot in to one again. So maybe she'd just prefer to cook her own meals from now on. And this from the kid who always wants to "order off the menu" because God forbid she should eat something the rest of the family is perfectly content to eat, or, *GASP*, she ate just last week without complaint!
That Crazy Brunette Chick managed to claw her way over the electric fence & back in to Crazy Town…
OH NO, SHE DI'N'T!! OH YEAH BABY, THE BITCH IS BACK!!
'Cause ya just GOTTA know she cracks me up to no end! I might have to make her Deputy Mayor! The Best Friend & I actually drank a toast to her the other night, when she came up in conversation & we both howled with laughter at her bold, brash, ballsy attitude The Best Friend & I so love to love! And giggled at how us crazy broads were swearing a blue streak back & forth to each other by e-mail, over the fact that Crazy Town was being temperamental & bitchy again, apparently thinking she wasn't crazy enough to get in, whilst I was wandering Wonderland with the Griswolds. (Frankly, Ash was the highlight of that particular day!).
My only son & eldest child turned 12 last week…
OH NO, HE DI'N'T!! I KNOW right??!!
Apparently it matters not to him that he has now made a liar out of his mother all over the internet, with hundreds of "press releases" from the Office Of The Mayor proclaiming me to be a stay-at-home Mom to 4 rug rats UNDER 12. And what the hell is he thinking anyways, growing up on me??!! I did NOT give my permission for that sh**…
My niece made it through the first stage of her Black Belt test today, & passed with flying colours!
OH NO, SHE DI'N'T!! Are you kidding me, that girl can kick some serious ass!!
Now ask me how old my niece is…that's right, she's 12…already the youngest female Brown Belt in her Dojo, she is about to become the youngest female Black Belt, & pretty much tied with one other boy for the youngest one period. No one be messing with MY girl!
I made THE birthday find for The Diva…well, two actually. A girlfriend passed along THE Barbie Dream House that her own daughter
had outgrown, & my girls have been asking for, like, FOR-EV-ER dude! But all she had really mentioned needing for her birthday was new "boy" Barbies…since, oddly, all the ones they own have been horribly disfigured & mutilated. I guess they take it literally when they hear Mommy repeatedly muttering, "I just wanna rip his head off!". So I actually found an EDWARD CULLEN "Barbie". The Diva is a Twilight/Edward fanatic! But wait, there's more!!! Check it…dude SPARKLES!!!!
OH NO, HE DOESN'T!!! Bahahahahahahahahahaha, he really really does!!!
Even in his nether regions!! Which caused the girls to proclaim that maybe if everyone's butt sparkled, then butts wouldn't be so "yucky"…then off they went to play with, NOT Barbie's house, but BELLA'S house…before they did, however, I made sure to warn them that that's exactly how to kill a vampire…beheading! So please to make sure that Mr. Cullen KEEPS his head ladies!!
A little bit later, I peek in to see what they're up to. All 3 of them, ever so happy, & even having found a brunette Barbie they have transformed in to Bella. Edward is sitting by the fire, feet up, blanket on him, & they have Bella fussing about in the kitchen, bringing him soup & tea…
OH NO, THEY DI'N'T!!! Holy crap, they SO DID!
I swear to God, my head exploded! Have they learned NOTHING from me??!! So I asked WTF, (fine, not really)…so I politely ask, "Whatchya doin'??". My oldest daughter, that soft, romantic mushy one, despite all my efforts to stomp that sh** out of her, says, "She's taking care of her man."
OH NO, SHE DI'N'T!! I'm pretty sure she did…
…but it was difficult to ascertain if I had heard her correctly, what with my head ACTUALLY exploding, so I can't be certain…fair warning though, you'd better watch your sparkly ass Edward. Don't be thinkin' you can fool ME with your glittery charm, I'll take your head off & blame it on The Baby without so much as frikkin' blinking….taking care of "my man", MY ASS!!
Signed,
The Mayor!
*Despite the Justin slam, I'm actually not a hater of Bieber Fever…I have to appreciate the fact that my young daughters have someone "age appropriate" to crush on!!
No related posts.